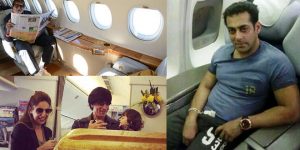 Mumbai: Hindi film stars are known to have luxurious lifestyles.
From plush bungalows to luxury cars, having extravagant things is very common among the movie stars. Many also own private jets.
So let's learn about the Indian actors who own private jets.
Priyanka Chopra
Priyanka Chopra, who is not only popular in the Hindi film industry but also in Hollywood, has a private jet. In the picture, she can be seen posing with her friends. Priyanka often travels between the US and India. Considering the short time intervals these actors have between shoots, having a private jet often helps in commuting from one continent to another.
Akshay Kumar
Akshay Kumar, who used to do four to five films a year, is so punctual that he takes time out to spend time with his family. Akshay goes to vacations on his private jet with his family and also uses his jet during the promotions of his films.
Ajay Devgn
Ajay Devgn is one of the Hindi film actors who is fond of luxury cars. His collection of vehicles includes Maserati Quattroporte, BMW Z4 and Audi A5 Sportback among others. Ajay has his own private jet too. According to a report, his jet is a six-seater Hawker 800.
Amitabh Bachchan
Megastar of Hindi film industry Amitabh Bachchan also owns a jet. He himself has shared many pictures of his plane on his social media account. The Bachchan family uses their own private jet when they go on holidays abroad.
Shah Rukh
In 2016, Shah Rukh Khan joked in an interview that I want to buy a plane but I don't have any money'. King Khan also has a private jet of his own which describes his king sized life.
Shilpa Shetty
Shilpa Shetty and her husband Raj Kundra too use their private jet for personal travels. Given how Shilpa and Raj own properties in Dubai's Burj Khalifa, England's Surrey and London to name a few, it only makes sense to have a jet of their own.