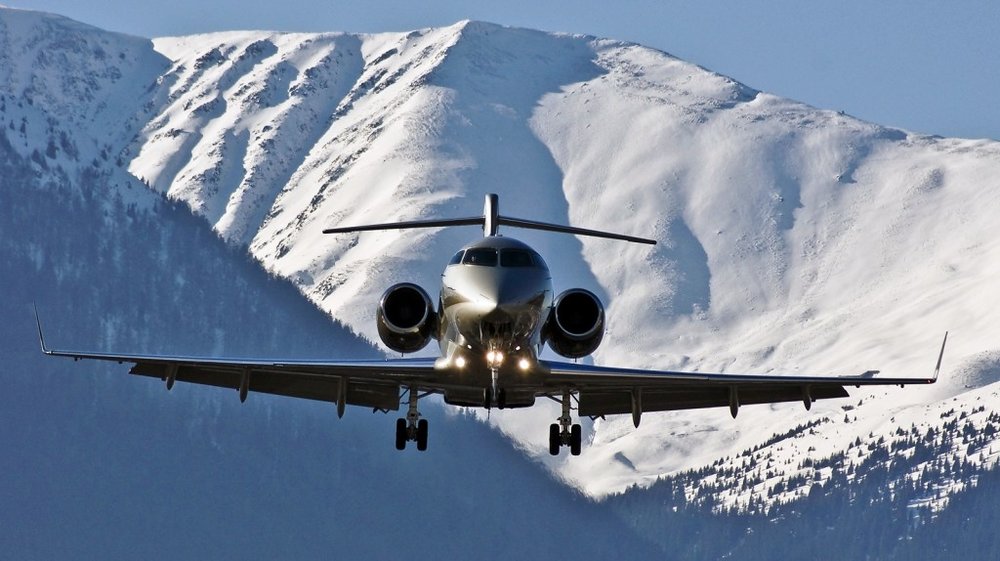 For that extra bit of time on the slopes, the ultimate height of luxury is to take a private jet directly to your ski resort. Dodge the airport lounges, long passport control and check-in queues to jump on a jet, taking you to your ultimate ski destination, stress free. There are many reasons to opt for a private jet to take you almost door to door…..you might just need to ski the rest of the way to your luxury chalet!
It's a luxury convenience to step off your chartered flight, get collected by your dedicated chalet driver or to ski straight into your luxurious home for the week, welcomed with a glass of fizz. There really is minimal time wasting and stress attached to this kind travel. Board your privately chartered plane to have luggage and ski equipment loaded as the engine is warming, and then in no time, have two wheels off the ground, positively on your way to the snowy peaks you've been dreaming about. Before you know it, in sight are those snowy mountain peaks and breathtaking mountain views from the comfort of your reclining seat; at this point your holiday has well and truly begun. Within minutes of landing, you can be on your skis, filling your lungs with the fresh mountain air. It's as easy as that.
There are a few ski resorts in the Alps to fly to. Let's take a look at the top private jet destinations for your winter ski holiday.
FLY TO Courchevel 1850
With Courchevel's reputation of being one of the most luxurious resorts in the French Alps, it makes perfect sense to indulge in the luxury of taking a private jet to Courchevel and then jumping straight onto the piste and skiing into your luxury chalet on the slopes.
Courchevel Altiport is one of the closest runways to the piste. Landing at 2,008m altitude, you can be carving your way down a ski run in no time. It takes some of the most skilled pilots to land the plane on a sloping runway of just 1,762 feet long and makes for a big cheer when the plane has come to a stop. Nonetheless, the surrounding scenery in the last few minutes of your journey is truly incredible with views over The Three Valleys, the largest interlinked ski area in the world.
Arrival to Courchevel Altiport. Video by Tufan Sevincel
If the Courchevel runway isn't for you, perhaps fly into Chambery Airport and take a luxurious 20 minute helicopter transfer to Courchevel, that way you can still take in the magnificent mountain scenery.
Take a look at our selection of the best luxury chalets in Courchevel to accompany your flight.
FLY TO St Moritz, Switzerland
St Moritz is definitely worth the 3 hour transfer from Zurich, Milan or Innsbruck International Airports and can be travelled to by an amazing train journey through the Alps, but it has to be said, flying straight into Samedan Airfield (also known as Engadin Airport) has got to be experienced if money is no object. The airport is capable of accommodating much larger aircraft than in Courchevel…..time to invite the family to enjoy the experience?!
The runway is a mere 4 miles from the affluent winter wonderland, where you can be picked up and chauffeured to your luxury chalet in no time. Home to where winter tourism was born, St Moritz is linked to 350 km of piste that offer not only excellent skiing but a paradise for a variety of snow sports and winter activities. From snow polo and ice climbing to horse carriage rides and winter hikes on the frozen lake, not to mention the famous Cresta run and Bobsleigh track, there are many activities for the whole family to get involved in. With so much to do, it makes all the sense to save time and arrive in the comfort of your own chartered private plane.
Our friends at Astute Aviation put together a private jet vs commercial airline comparison, based on getting to the ski resort of St Moritz.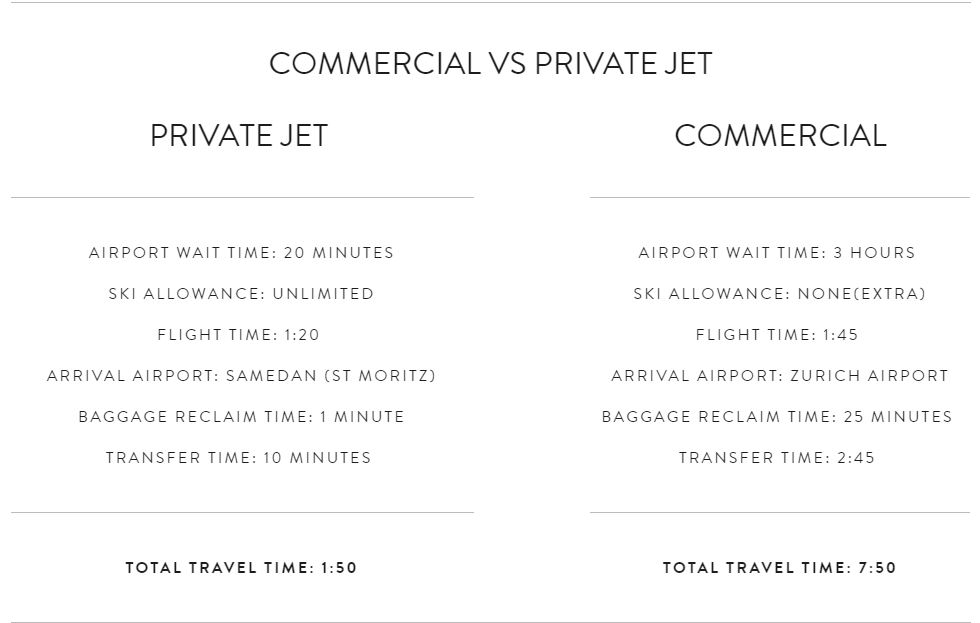 Take a look at our luxury chalets in St Moritz for your ski holiday by private jet this winter.
OTHER SWISS SKI RESORTS BY PRIVATE JET
Alternative Swiss resorts such as Verbier and Zermatt can be accessed with a much shorter transfer than Geneva or Zurich from Sion Airport. You can fly your private jet into the steep Sion valley, surrounded by the beautiful Swiss mountains. From here you can take a private transfer by helicopter or car straight into resort.
Taking a private jet to the alps will not only maximise your time on the slopes but it ensures a comfortable, stress-free and scenic route to your luxury ski chalet holiday destination. If you would like more information on how to charter your own luxury private jet to the Alps then please get in contact us on +44 (0)1202 203653 or send us an email.
The post From the Runway to the Piste: Private Jets to the Snow appeared first on Ultimate Luxury Chalets Blog.