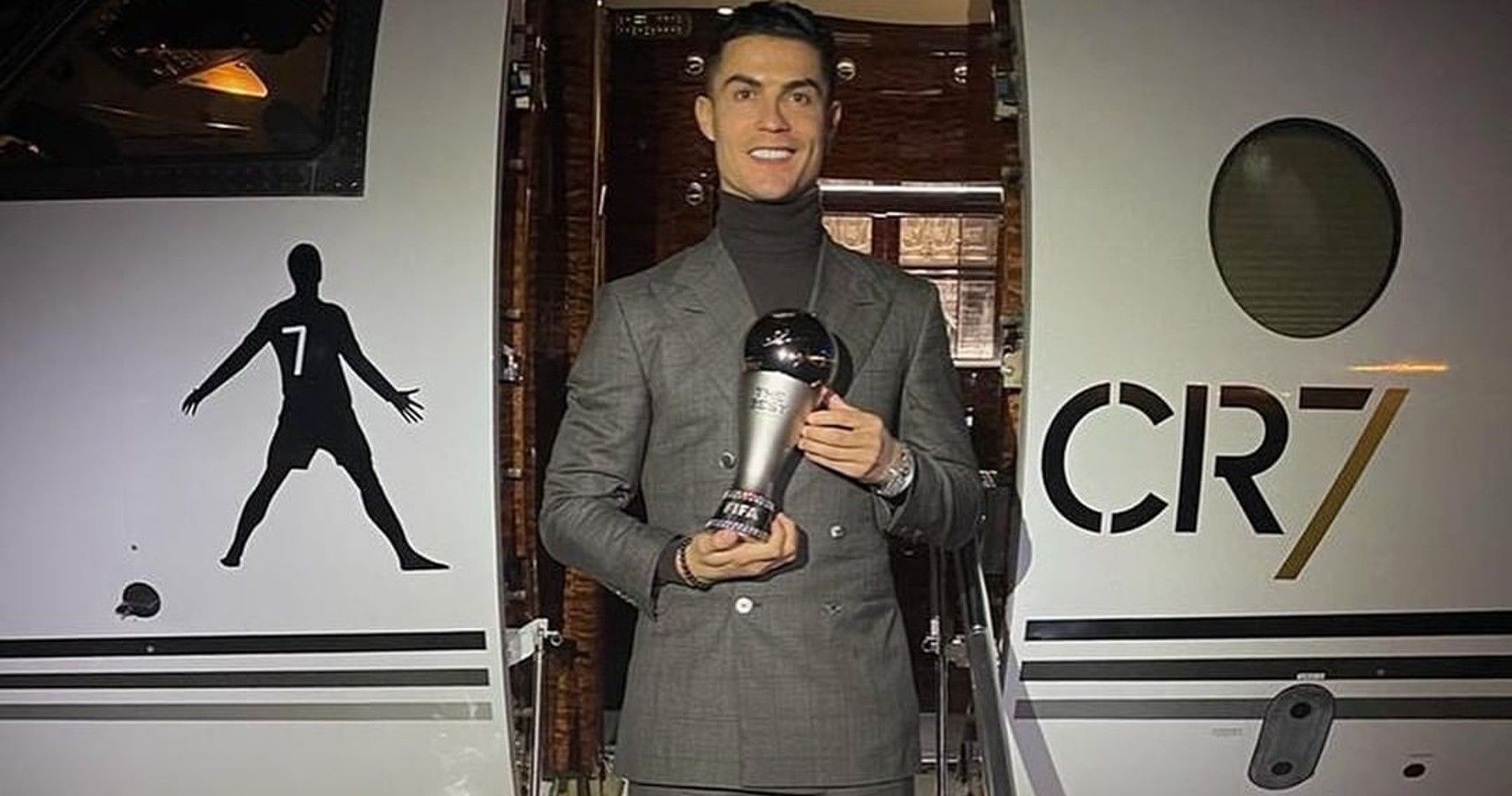 Ronaldo comes from struggling family background and knows the true value of hard work and making a living. Ever since becoming a professional football player in his teens, his career has continued to soar over the years. He is regarded as one of the greatest football players of all time and has pushed every obstacle to rank at the top spot. Along with earning hefty salaries through his sports contracts, he is the face of many high-end brands that pay him millions to endorse them. In 2021, he became the first soccer player to cross the $1 billion mark in earnings. With a sprawling net worth, he likes to spend his money on lavish expenses worth millions. Along with owning one of the most expensive car collections, he owns not one but two private jets.
Cristiano has invested a lot of his earnings into travel as he likes to fly in private jets that offer him the privacy and luxury of visiting different destinations. Two stunning Gulfstream jets under his name, let's take a peek at the player's private jets.
In 2015, Cristiano Ronaldo purchased his first private jet, a Gulfstream G200, when he played for Real Madrid and used the plane to travel with his teammates to different destinations across Europe. The football star purchased the jet for $25 million, according to Yahoo News. He recently refurbished the private jet in 2019 to give it an interior makeover and make it child-friendly to accommodate his growing family. The plane is a celebrity favorite as it's one of the most exclusive planes, and only 250 of these private jets are manufactured by Gulfstream.
A few years later, Ronaldo purchased his second private jet, a Gulfstream G650, for a whopping $65 million. A top choice for business travelers, it is an advanced combination of range and speed. Also, the private jet is advertised as one of the soundless jets in the aviation industry and is a top choice by celebrities to travel in safety and style. Many celebs, including Oprah Winfrey, Floyd Mayweather, and Dwayne 'The Rock' Johnson, own a Gulfstream G650.
The first jet, G200, is a big jet with dimensions 2.19 m in width and 7.44 m in length. With a cruising speed of 528 MPH, equipped with twin engines made in Israel. Additionally, the jet offers 6,040 pounds of thrust, as mentioned by Auto Evolution. The G200 has a maximum speed of 560 MPH and a range of 3,910 miles. With a seating capacity of 10 passengers and two crew members, it is a spacious ride for the football star.
Slightly bigger than the G200, the Gulfstream G650 can seat 19 passengers with ten sleeping spaces equipped with two Rolls-Royce BR725 engines; the G650 is always ready for a seamless and safe travel experience. The jet is meant for long-distance travel and has a range of 8,055 miles and a top cruising speed of 594 MPH, as reported by Simply Flying. An award-winning private jet, the G650 was given the Robert J. Collier Trophy in 2014 for its landing performance and upgrades. The interior was custom-designed by Ronaldo when he booked the G650 for purchase.
Cristiano Ronaldo often shares snippets of his travels with his family on his social media accounts. The followers get a closer look at the interior that features mahogany wood and beige decor. As mentioned by Business Insider, along with the standard recliner seats and seating areas, the Gulfstream G200 features an oven, refrigerator, microwave, and an entertainment system. The jet is also custom-equipped with a fax machine for emergency responses or messages to send. The private jet has three beds, three divan seats, and a dining area to experience a relaxing journey.
A class-apart in luxury, the Gulfstream G650 is considered one of the most luxurious interiors of any private jet. With four areas encompassing the office, entertainment area, and dining room, the single seats in the plane offer a panoramic view from every direction. The 16 handcrafted seats can convert into beds for added comfort and luxury. The G650 has 100 percent fresh air and offers the lowest cabin altitude of any private jet in the aviation industry. One of the most trusted private jets, the G650 provides a customized cabin experience to the football star to travel long distances in luxury.
Cristiano Ronaldo has a stunning fleet of automobiles and private jets worth millions of dollars that help him travel long-distance journeys. With a hefty net worth at his disposal, Ronaldo has purchased some of the best private jets in the world that offer speed and elegance during his everyday travels.
READ NEXT: A Peek At Lionel Messi's Watch Collection Worth Millions
Sources: , , ,